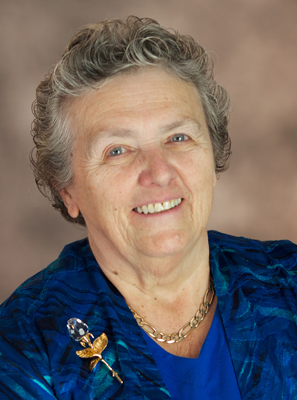 Joan Chittister, OSB
…one of the most influential religious and social leaders of our time, is the founder and animator of Monasteries of the Heart, a web-based movement sharing Benedictine spirituality with contemporary seekers. Her book, the Monastery of the Heart: An Invitation to a Meaningful Life, is the core curriculum. For 40 years, Joan has passionately advocated on behalf of peace, human rights, women's issues, and church renewal. A much sought-after speaker, counselor and clear voice that bridges across all religions, she is also a best-selling author of more than 50 books. A member of the Benedictine Sisters of Erie, Joan is also the executive director of Benetvision, a resource and research center for contemporary spirituality.
Front:
Jacqueline Small
Anne McCarthy
Mary Ellen Plumb
Janice Etchison

Back:
Linda Romey
Mary Lou Kownacki
Diane Trejchel
Mary Lou Kownacki, OSB
…is the Director of Monasteries of the Heart and Benetvision Publishing. She has lived and worked in inner-city Erie for 40 years, and has been instrumental in developing innovative programs that serve local neighborhoods, including founding the Inner-City Neighborhood Art House. She served as executive director of Alliance for International Monasticism (AIM) and of Pax Christi USA, the national Catholic peace movement.
A poet and award-winning author, Mary Lou's most recent books are Old Monk (Benetvision), A Monk in the Inner City: The ABCs of a Spiritual Journey (Orbis), and Between Two Souls: Conversations with Ryokan (Eerdmans).
Anne McCarthy, OSB
…was on the Benetvision staff from 1994-1997 and then returned in 2006 after completing an MA in Theology from St. John's University, Collegeville, MN, in monastic studies. Currently she coordinates the online Monasteries of the Heart communities, co-facilitates the Listening Hearts program and is the resource person for Monasteries of the Heart in prisons.
Anne coordinates Benedictines for Peace in Erie and leads retreats on nonviolence and monastic spirituality around the country. Long involved in peace and justice ministry nationally and locally, Anne participates in the Catholic Nonviolence Initiative. A Benedictine Sister of Erie, she has served on the Monastic Formation Committee and Faculty.
Mary Ellen Plumb, OSB
…joined the Monasteries of the Heart staff in 2013 after 38 years in secondary education as a Social Studies teacher, Counselor and Director of Campus Ministry. Mary Ellen has served the Benedictine Sisters of Erie as Director of Monastic Formation, Novice and Scholastic Director, and Oblate Director and is currently on the Monastic Formation Committee. At Monasteries of the Heart Mary Ellen helps plan and develop the monastic curriculum and is instrumental in preparing and posting course and monastic practices content and engaging in dialogue with participants.
Mary Ellen also works closely with prison chaplains and volunteers through the Joan Chittister Fund for Prisoners. A Benedictine Sister of Erie, she serves on the Erie DAWN Board of Directors and InterChurch Ministries Executive Board. She is experienced as a retreat leader, a hospice chaplain and a motivational speaker.
Janice Etchison, Oblate
… is an Erie Benedictine Oblate and former participant in the Benedicta Reipp Program, a year-long live-in program with the Benedictine Sisters of Erie. She joined the Monasteries of the Heart staff in 2014 where she coordinates print projects and e-newsletters, keeps Sister Joan Chittister's website up-to-date and serves as the contact person for onsite Monasteries of the Heart communities.
Janice is an active participant in prison ministry. Previously she was a Case Manager at St. Benedict Education Center and Project Assistant at Gannondale Residential Center for Girls. She has a grown daughter.
Linda Romey, OSB
…worked at Benetvision from 1997-2004. After a five-year stint as Director of Marketing and Advertising for the National Catholic Reporter in Kansas City, MO, she returned to Erie in 2010 and rejoined the Benetvision/Monasteries of the Heart staff as web developer and designer. She also helps with financial management and marketing.
Linda does web development and design and marketing for the Erie Benedictine community where she is also a member. She serves as treasurer for the Communio Internationalis Benedictinarum. Prior to entering the community Linda lived and worked in Colombia, South America, for seven years.
Diane Trejchel
…began working at Benetvision in its early days, in 1993-96. She returned in 2000 and has come to know many regular customers well over the years. Diane does data entry, orders inventory, answers emails and assists people with website navigation on the Benetvision, Monastic Way and Monasteries of the Heart websites.
Katie Gordon
… first came to Monasteries of the Heart in the summer of 2019 as the Joan Chittister Intern. She is a graduate of Harvard Divinity School, where she studied religion, politics, and ethics. Katie helps manage the Monasteries of the Heart website, eCourses, blogs, and weekly newsletter. She also organizes interspiritual, intergenerational communities through Nuns & Nones, a collaboration she co-founded with Catholic sisters and spiritually diverse millennials.
Hannah Kurtz
… joined the staff in fall 2020, and is supporting Monasteries of the Heart as well as Joan Chittister's website, Benetvision, and The Monastic Way. She comes to us after several years working with the Mennonite Central Committee internationally as a teacher's assistant and peaceworker. Hannah has a Master of Arts in Ethics, Peace and Global Affairs from the School of International Service at American University, and looks forward to getting to work with others seeking to deepen their faith while seeking justice.
Jacqueline Sanchez-Small
... began working for Benetvision and Monasteries of the Heart in 2017, after two years of contributing while in graduate school. She is currently at Scholastic with the Benedictine Sisters of Erie, and continues to write her "Little Blog for Beginners." Jacqueline has a Masters degree in Divinity as well as a Masters in Social Work.