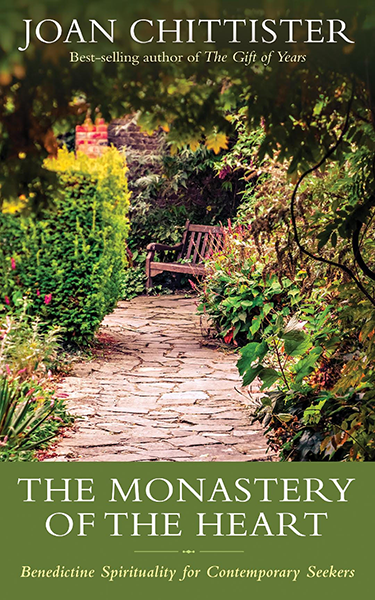 In Joan Chittister's book The Monastery of the Heart, she writes: "Every century, every culture has sought the spiritual dimensions of life in particular ways, in language and symbols and lifestyles it could embrace. Across the ages, countless women and men in East and West chose the path of monastic life, either in solitude or in community." 
 
As we face the crises of today, what does it mean for us to choose the path of monastic life? With the challenges and possibilities of our particular time and place, how can we cultivate a monastery of the heart? What does this ancient tradition teach our contemporary culture?
This eCourse will feature a special, one-time-only video conference call with Joan Chittister on the Zoom video conferencing platform.
We will post new material on Mondays, Wednesdays, and Fridays; you will receive an email alert when the new content is posted. Through reflections and lectio practices, each session will explore a different facet of the monastic life, based on the chapters of Joan Chittister's re-released book, The Monastery of the Heart. Reading along for yourself is encouraged but not required for this course. You can purchase the new edition here (or use your first edition if you have it). All participants are invited to participate in the moderated discussion forum.
Save $2 on The Monastery of the Heart: When you register for this eCourse you will receive an email with a $2 off coupon code to use when you purchase your book at Benetvision. Click here.
This three-week eCourse runs June 8-26.
You will have access to this eCourse for six months after the course concludes.
About the Facilitator: Katie Gordon is a staff member of Monasteries of the Heart, and a national organizer with Nuns & Nones. Her work is focused on building bridges between traditions and generations, in an effort to translate ancient wisdom for contemporary seekers to respond to the greatest challenges of our own time. Katie is a graduate of Harvard Divinity School, with a Master of Theological Studies in Religion, Politics, and Ethics.